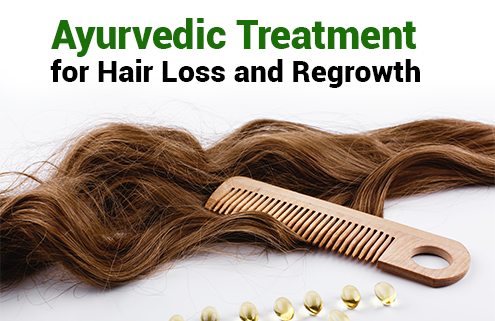 Hair is one of the most precious elements in our body. It gives a glimpse of the personality of the person or how they wish to express themselves. Hair fall or hair loss is when people start to experience thinning of hair because of the loss of hair and its volume. There is no single reason for hair fall, but it depends on the person, the climate they live in, genetics & hereditary conditions and their lifestyle.
Harsh chemical hair products and pollution causes hair damage over time and causes hair to break and fall. It is advised to avoid harsh chemical products if one wants healthy hair. Ayurvedic remedies for hair fall are made from natural ingredients that enrich the hair, make the hair full of life, and prevent hair fall. Ayurvedic products are available in the market in the form of shampoos, conditioners and masks. These Ayurvedic products contain natural ingredients and could help prevent hair fall, and it is important to check the ingredients for any chemicals.
Ayurvedic Treatment for Hair Loss
Here we mention 4 Ayurvedic treatments for hair fall that are 100% natural and contain ingredients you could find at your house.
1. A Good Hair Regime
Washing your hair helps to keep it dirt free and healthy. But washing it every day could damage your hair and make hair lose its natural health. An ideal washing plan would be to wash it 2-3 times a week with an Ayurvedic Shampoo followed by an Ayurvedic conditioner.
Air drying is the healthiest option to dry your hair, but if time is an issue for you, you could grab a cotton cloth that has more absorbing ability than your normal bath towel, or you can simply use a t-shirt. You must pat your hair dry rather than vigorously rubbing your hair which may cause the hair to pull and break from its roots.
2. Healthy Diet
You are what you eat, and for your hair, it is the same. The external care you give can help protect the hair from falling, but what you eat determines its roots' hair strength and health. Vitamin A, B, C, D & E are essential for the good health of your hair. Other elements like Iron, Biotin and Good Fats help in keeping the hair strong. Protein is crucial for muscle building as well as hair growth.
3. Ayurvedic Hair Oil Treatment
Oil is a vital part of hair care and has been practised for 1000s of years. Ayurveda mentions certain oils that could help prevent hair fall and protect hair from further damage.
Coconut Oil is the most used oil in India, especially Kerala, because of its ability to protect the hair from the climate that keeps varying in Kerala. Coconut oil is rich in protein and helps hair growth, prevents dandruff, treats split ends, and acts as a natural heat protector.
Amla Oil or the Indian Gooseberry is a natural conditioner that contains vitamin C and has antioxidant properties. Amla in its raw form or juice, when consumed internally, can give the same benefits as its oil and also many benefits to the body.
Bhringaraj Oil is widely used for its ability to prevent and treat balding. Applying Bhringraj or Bhringaraj oil can help the hair keep its natural colour, preventing greying.
The smell of these oils are strong and might be irritating for people with a sensitive nose. Combining these carrier oils with Essential oils could help to mask the strong smell, giving a comforting scent that is more acceptable. Essential oils can provide many benefits and help to enhance the performance of carrier oils.
Peppermint oil, rosemary oil, lemongrass oil, lavender oil, thyme oil and tea tree oil are good for hair growth and hair fall treatment.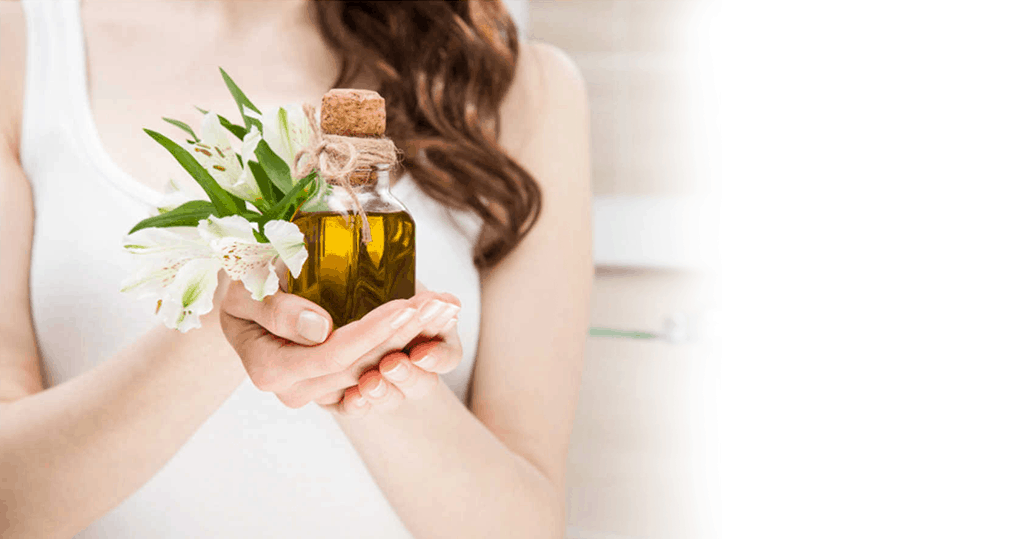 4. Ayurvedic Hair Fall Masks
Hair masks provide deep conditioning to the hair, enriching from within and preventing breakage and thinning.
Alovera Gel has restoration properties that keep the hair well conditioned and nourishes the tip of the hair. Mixing it with coconut oil increases its restoration and conditioning benefits.
Coconut Milk Mask is rich in protein and vitamins that make the hair healthy. Thick milk extracted from coconut can be applied directly to hair and washed off with lukewarm or cold water after 15-20 minutes.
Fenugreek and Curd is a good combination to help lock the hair to the scalp and prevent hair fall. Fenugreek seed is ground into a paste mixed with curd, applied directly to the hair for half an hour and washed off with normal water.
Onion Juice has benefits that way down its bad smell. Blend onion and extract its juice and apply directly to the roots and strands of the hair. Wash it off after 30-45 minutes. Honey and Orange peel could help to mask the smell and provides additional vitamins.
Some cases of hair loss may require more than just home remedies. An Ayurvedic physician could help give you a personalised treatment plan to have healthy hair and improve your overall health. Consult with Athreya Ayurvedic Centre to treat your hair fall and grow your hair back.
https://www.theathreya.com/wp-content/uploads/2021/08/blog1.png
400
495
Athreya Administrator
https://www.theathreya.com/wp-content/uploads/2023/09/WhatsApp_Image_2023-09-02_at_7.11.45_PM-removebg-preview-1-300x83.png
Athreya Administrator
2021-08-30 11:02:40
2021-08-30 11:02:42
Ayurvedic Treatment for Hair Loss and Regrowth